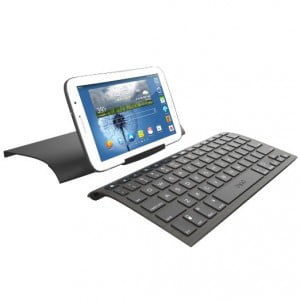 I bought a Zagg Universal Keyboard to work with my Samsung Galaxy s5 phone.   I figured I could maybe do some better writing if I had a real keyboard to use.   I've never been a huge fan of onscreen keyboards,  but there just isn't a good phone out these days with a physical keyboard.   I've managed to tolerate the onscreen keyboard with the thanks of SwiftKey,  the only paid app I've gotten so far.   Anyway,  this topic is about the Zagg keyboard.
I started by researching Bluetooth keyboards, figuring a full size keyboard would even be fine, as I don't plan on moving the keyboard around.   I didn't really see too many that stood out.   There was an Amazon made Bluetooth keyboard for Android (I think they also make one for Apple), which was around $30.  If I still had Amazon Prime, I probably would have gotten that one.   It had mostly positive comments.   I didn't feel like spending the money for shipping or to add something to get me over the $35.  I'm still a bit aggravated with Amazon over a customer service issue, which is unusual with Amazon, but that is also a story for another day.
I then looked on eBay to see what keyboards were being sold there.   I found this Zagg Universal keyboard for around $20.  It turns out that it is listed as New (other).   I took my chances ordering it as the company had a very high feedback rating.   I figured the issue was just it didn't have a box, which is in fact what it was.   At least it looked new to me.
After I ordered, I did see some reviews on Amazon that mentioned problems with the keyboard typing double and multiple repeats of the same character.   I was worried about that, hoping I wouldn't have that issue.
I got the keyboard in a few days and tried it out. It came in a plastic bag, with no box.   In the bag was the keyboard with slide on case, a small Micro USB to USB charging cord, and two small instruction pages.   The device comes charged and they say a charge will last about 3 months! And charging should only take 2 hours.   I think I can use any Micro USB charger, but I'll keep the cable they provided just in case, assuming I don't lose it.
They have very simple instructions, like 6 steps.   I first tried using the stand that is built into the case part of the keyboard.   Unfortunately, my Galaxy s5 doesn't fit in the slot, because of the case I have on my phone.   It fits fine without the case, but it'd be a pain to keep taking the case on and off.   I'm not sure I really need a stand, as I can just prop my phone up on something, as I'm used to doing.   I was a bit disappointed, but I didn't buy this because of the stand.
I then had to flip the selector switch on the bottom of the keyboard to Android (there is also a setting for Apple and microsoft).   I then turned the keyboard on and the caps lock light flashed blue.    I don't usually use Bluetooth devices so I had to turn it on my phone. Right away my phone detected the Zagg keyboard.   That's a good sign.   The instructions say you are supposed to push the pairing button that is right next to the power switch.   I tried pushing the button, but it didn't budge.   Since the phone detected the keyboard,  I figured I was good to go.
I start typing, and I had the dreaded multiple key press problem.   It didn't matter if I pushed the key very quickly, I would still frequently get multiple characters on the phone screen.   The interesting thing was that SwiftKey autocorrected almost all of them to the right intended word.   Sometimes I would get extra space keys, and deleted letters was a pain, as I'd getting multiple deletes as well.
I sent an email to customer support, not too optimistic that this was fixable, but I figured maybe there was a setting on my phone that can adjust the Bluetooth and get it working properly.   I sent the email on a Saturday evening, and as I expected, I got a response on Monday. The response was brief and said that I should call for support.   Hmm.  Making calls generally doesn't fit well with my work schedule, but I gave a call to their support number tonight around 8pm mountain time and surprisingly their support was still available.   I was also surprised that I had to sit on hold for about 20 minutes, with no warning of how long I'd be on hold.   But I was just glad they had evening hours for their support.
After sitting on hold, a customer support person came on the phone and he said that sometimes the phone doesn't pair properly causing this problem, and he suggested I have my phone "forget" the device, and then reconnect them.   As I don't use Bluetooth, I asked him to walk me through this.   He went ahead and asked me to go into my Bluetooth settings and have it forget the device.   I couldn't figure out how to do this, even with his help.   I wound up just unpairting the keyboard and then restarting my phone.
He then had me turn off the keyboard and turn it back on.   He then asked me to push in the pair button for 3-5 seconds.   I said that the button doesn't seem to push in, and how will I know when it is pushed in.   He said something about the buttons being very close to flush with the surface so I should use a key edge or a fingernail to push it in.   As my button was sticking out about 3mm, I used the flat back end of a ballpoint pen (not the writing end,  but the other end) and pushed pretty hard, the button pushed in and I held it for about 5 seconds.   When I let go, the button didn't come back out.   Uh-oh. He said I should try using a pin to see if I can move it so that it will pop back out.   Using the pen tip, I was able to feel the button push in slightly and click, and then unclick, but was still flush with the side of the keyboard, not sticking out at all.   He said not to worry about it.   Okay.
I then repaired the Bluetooth connection and my phone again quickly detected it.   I went and tried it and amazingly the repeating key issue was gone!! In fact, I'm typing this review on the keyboard right now.   I'd say I've done all of this typing in about 10-15 minutes.
Now the keyboard works amazingly well, with very accurate response.   The keyboard itself is very reasonable for touch typing.   I guess I could go to one of the typing speed websites and see how I do.   I also have the added benefit of the autocorrect from SwiftKey, which makes my typing even more accurate than I normal.
I'm hoping that the pushed in pair button doesn't cause any problems long term, but so far so good.   If I have any problems down the road, I'll post a follow-up.
As I said, I did this blog post using the Zagg Universal keyboard, but I am guessing I will go back on my computer to add a picture or two, as well as add some links to where you can buy the device on Amazon.
If you had problems with the multiple key presses, try re-pairing the device as I did (hold the pair button in for 3-5 seconds before connecting to the phone/tablet). Let me know if that helps your situation.   I asked the support guy what the problem was and he said that some Android devices will automatically pair without having to push the pair button, but the pair button improves the connection between the devices.
I really hope having the pair button stuck in the keyboard won't cause long term problems.   Again,  if I have issues or further comments about the keyboard, I'll update this post. Feel free to post your comments in the comments section.   I'd love to hear what other people think of this keyboard, or other Bluetooth keyboards they've used with phones or tablets.