I decided late this Spring to plant some bare root raspberry canes.  After a failed Home Depot bare root cane, I did more research and got some very high quality bare root raspberry canes from Nourse Farms, ultimately selecting Anne and Joan J to plant, choosing them over others mostly because they are thornless.  I'm not the most patient person, so I didn't want to go through the effort of optimally preparing the soil and planting area but wanted to do my best to have something that would hopefully work.
I ordered the plants on May 24th, and they were set to be delivered the week of May 31st.  I didn't get a chance to start preparing the ground until around May 28th, giving the ground only a week to be ready.  There are definitely better ways to preparing the ground, but I was banking on the reputation I've heard of raspberry plants being extremely hearty.  I decided that what I would essentially dig a deep layer of sod and turn it upside down.  This should kill the grass and also return the nutrients to the soil (I have no knowledge if this is what happens, but it sounds good).  I also had an inexpensive Ryobi cordless garden cultivator / hand tiller that I bought last year, which I would use to further break up the soil.
I don't have a lot of good areas in my yard to turn into a raspberry patch, but I figured the best spot was in front of the shed I assembled a few years ago. I didn't have any spots left that get full sun, but this area gets sun pretty much from noon on and a moderate amount of shade in the morning from a large tree in the neighbor's yard that hangs over mine.  It would probably be better to have the shade in the hotter afternoon weather, but I didn't have much choice.  Again, I'm going with the hope that raspberries really are as hearty as everyone says.  Of course, it may be that more sun would lead to better tasting berries.  I planned on making two rows for five bare root canes each.  I roughly measured each to be about 10 feet long and 2 feet wide.  I gave about 5-6 feet between the two rows.  I didn't take a picture before I started ripping up the lawn, but here is how it looked after I turned over the first row: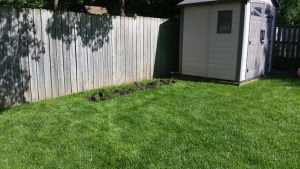 I hadn't used the battery powered cultivator yet and I did a better job with the second patch. I learned better how to make a square piece of sod, lift it and flip it over, without leaving some grass in between areas.  The cultivator helped some, but by no means did it really chop up the soil.  Here's the final product after turning both sections over and using the battery powered tiller: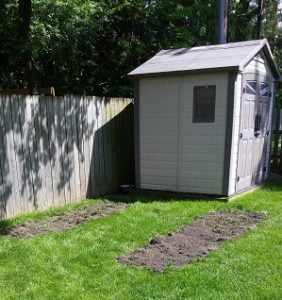 I admit it isn't a very elegant solution, but hopefully it'll still work out.  After turning over the grass, I now just had to wait for the raspberry canes to arrive.